My family loves a countryside escape out of London on the weekend, especially to the Cotswolds.  London can be full on during the week and so we quite often enjoy a good, but not too long, road trip out of town.  There are so many gorgeous places within a two hour drive, and even shorter train ride from central London, to unwind and re-coop before the Monday grind again.  So if you've been to London many times before and want to try something new on your next visit these are the places to go, we've been to them all! The destinations below (and in no particular order) are great at any time of year. 
Getting there….. I recommend hiring a driver from Wheely or Prestige (£200 each way) to get you there and back or take the train (approx £35 pp) from one of the London train stations and arrange for the hotel to pick you up from the closest town station which will cost you another (£20-£30). Each one of these countryside places will let you know on their website, the closest station to them from London. Then, just google "station name" + "traveling from London"  to find out which London station (as there are a couple) is easiest for you to travel from with all the train times during the day. You can purchase train tickets online or at the station. The trains are super easy to travel on, especially when attempting to driving on the other side of the road isn't. 
It really is magical out in the English Countryside, there isn't anything quite like it! Definitely, give one or all a try and tell them I sent you! xx Juliet
We love Soho Farmhouse. For kids or families you can ride horses, go biking, collect eggs from the coop, roam the garden, relax by the pool, indulge in the spa — the list is endless and it's always an enjoyable time.
DISTANCE FROM LONDON | 1 hour drive or 15 minute drive from the Charlbury train station
Soho Members on Weekends | Non-Members can book stays Sunday-Thursdays
https://www.sohofarmhouse.com/
A gothic historic stately home that has been completely transformed to give you that 'home away from home' feeling. The perfect location to go on walks along the River Thames or to explore Windsor. In the Spring you can also spent some time at the River House, which is in collaboration with Soho House.
DISTANCE FROM LONDON | 1 hour and a 30 minute drive from London or 10 minute drive from the Windsor and Eton train station.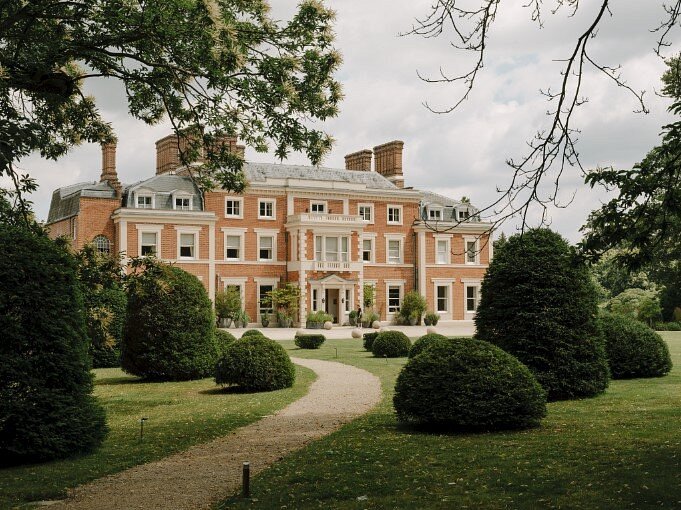 This 1790 building has undergone major renovations (10 years!) but has been totally worth the wait. The interior designed by Ben Thompson is stunning down to every last detail, and perfectly mirrors the English countryside that you can see outside the windows. There's 400-acres of land to reconnect and escape the business of London – with boat trips on the lake, walks in the garden and woodland, taking in the orchards or even a tour of the farm. If you love classic English novels then this is the spot for you, Jane Austen lived in close-by in Chawton so you can imagine you're living in Pride and Prejudice.
Both the restaurants are absolutely amazing, overseen by Chef Skye Gyngell. Whose dishes are inspired by seasonal produce grown on the estate. Fresh and delicious.
DISTANCE FROM LONDON | An hour and 15 minute drive from London or a 20 minute drive from Reading station
https://www.heckfieldplace.com/
One of the most charming, pampered places in the Cotswolds. Great for families or couples to enjoy one of England's leading farms, the Bamford spa, and adorable character of the property. Daylesford has houses to rent or Wild Rabbit Inn (It's sister property just down the road) also offers quaint, luxe lodging.
DISTANCE FROM LONDON | Only 1 mile from the Kingham Train station or a 2 hour drive from London
https://daylesford.com/locations/kingham-gloucestershire/
Geared more towards adults, this culinary favorite is stunning. It's located right next to the church where Kate Moss was married and offers cooking classes, farm fresh restaurants, and a beautiful place to stay in the charming village of Southrop.
DISTANCE FROM LONDON | 1-hour 45-minute drive from London or 30-minute drive from Swindon Train Station
Where we stayed during on our trip to Southrop. Private, adorable family cottages just steps away from the local pub. Great for families if you want more space than your usual hotel with multiple bedrooms and a front lawn.
DISTANCE FROM LONDON | 1-hour 45-minute drive from London or 30-minute drive from Swindon Train Station
https://www.greyscourt.com/en/
This stunning property just went under a major renovation and fits the bill if you're looking for a place to stay that's "farmhouse chic". They have a spa, gourmet food, and cute decor that fits the charm of the countryside.  
A gem of a place in the Cotswolds.  The cozy common areas of the inn make it feel like its your own home, with board games, a fire and the bar very near by our family really knows how to settle in here. The main draw – the gorgeous new spa and indoor pool keeps our kids wanting to go back here time and time again!
DISTANCE FROM LONDON | 2-hour drive from London or 12-minute drive from Moreton in Marsh train station.
An absolutely beautiful place to stay, and in the same neighborhood as one of the Queen's most favorite places  – Ascot.  Amazing food, a beautiful tea time, stunning rooms, horseback riding for the kids and incredible 5 Star service make this spot a posh Londoners favorite weekend getaway at just 40 minutes from central London.
https://www.dorchestercollection.com/en/ascot/coworth-park/
The gorgeous manor situated in the New Forest, just south of London and just 20 minutes from the seashore, has a history dating back to the 13th century when it was used as a hunting lodge. It's chic and incredibly tasteful makeover made the interiors just as impressive as the stylish Regency exteriors of this gorgeous 5 Star country house with a fabulous spa make it an idyllic spot for R&R.  On our last stay we booked a Forest Cottage and although a little dark for our normal preferences we loved the rustic and slightly more masculine feel of the cabin, a vibe quite opposite to traditional countryside hotels.
DISTANCE FROM LONDON | 2.5 hour drive from London or 12 minutes from Brockenhurst Train Station
https://www.limewoodhotel.co.uk/
If you prefer old school elegance, you will love the main house and rooms here. However, the real main highlight of this stunning manor are its more modern Treehouse Suites perfect for a family with its adorable set up cozy twin beds for the children or book in one of the Treehouse's with a more romantic vibe for a peaceful escape for lovebirds. The Treehouse's are quite special as they are nestled in the forest with views of tree canopy reminding me a bit of Post Ranch Inn in Big Sur.
Here at Chewton Glen you can do as the Brits do and sign up for some clay pigeon shooting (not my thing at all!), play croquet with the family on the sprawling grand lawn or book in a sail on the gorgeous sea waters just a 15 min walk away from the hotel.  And, if you just prefer to chill at the hotel and go for a swim in the indoor pool, enjoy the spa and have an incredible meal and unwind with a couple drinks, the bar men sure know how to make a mean cocktail.
DISTANCE FROM LONDON | 2.5 hour drive from London or 10 minutes from New Milton Train Station
If you want to do as the Queen has done, or sleep where Meghan Markle did the night before she became Prince Harry's wife and the Duchess of Sussex then book yourself in her for the ultimate royal stay.  The most impressive on this list as far as history is concerned your stay here will make you feel like you are living in a different era and your stay in one of its suites will make you feel like a Lord or Lady.  Cliveden is a National Trust owned estate, most recently the forme residence of  and just as it extremely grand and old school, it is also unexpectedly cool, modern and relaxed with its more modernized parts like the spa with super cool outdoor jacuzzi and its barn pu
We stayed in the Spring Cottage a 3 bedroom house on the property overlooking the River Thames which was favorite haunt of Queen Victoria and where Lady Astor would weekly have Queen Elizabeth for tea.  The house still boasts its royal columns with stairs to where QEII would take a boat from Windsor Palace just 15 minutes away to visit with the Lady Astor in her more cozy home tucked down the road from the mansion house.
With gorgeous grounds for long walks and details set to make you feel royal this place can't be beat.
DISTANCE FROM LONDON | 45 minute drive from London or 15 minutes from Burnham Train Station